We talked with our guests for the upcoming "Enter The Arena" Stoneface & Terminal about their 10th anniversary, their upcoming plans and many more. Enjoy reading! 😉

TranceAttack: Hey Henry, hey Matthi, great to have you back for a chat! The reasons couldn't be better as you are our guest this month at "Enter The Arena" and you celebrate your 10th birthday as "Stoneface & Terminal"!
Henry & Matthi: Hi there!

TranceAttack: Let's start with your anniversary! 🙂 Congrats for reaching this great milestone! There are not many acts in Germany who can look back on such a long sucessful time in the trance scene! How do you feel?
Henry & Matthi: Thank you! Actually, we don't feel like it's already 10 years since we started to work under Stoneface & Terminal. There are still so many things for us to discover and to learn.

TranceAttack: If you look back… What were your personal highlights you don't want to miss?
Henry & Matthi: Production wise we are really happy that we were working so hard to bring something meaningful to the music scene. specially in times, when people are extremely shallow and follow the trends. We collaborated with acts like Paul van Dyk or Aly & Fila and remixed Above & Beyond, Armin van Buuren or Bryan Adams, awesome moments!

Gig-wise, we played around the globe, saw so many important and famous places and met so many great people through the years. DJ highlights were NYE in Kuala Lumpur, Creamfields Poland, Gods Kitchen and Pacha New York to name a view. And there are many highlights yet to come (we hope) 😉


TranceAttack: What was your scariest moment?
Matthi: When i was in India, the pilot rejected the take-off, that was pretty scary!
Henry: Sometimes it's scary to see bad things in the news, happened just days or few weeks after we were there.

TranceAttack: How did your work in the studio and behind the decks change over the years?
Henry & Matthi: The DJ technique changed a lot. We started playing with Vinyl. Than we switched to CD and now we began to play from USB. We are happy that we grew up in a time when Vinyl was big. It feels much better when you can literally touch the track.

In the studio, our workflow didn't change that much. The studio is still almost completely virtual. The biggest change is that we are working more via the internet as Matthi moved to Hamburg.

TranceAttack: How does the modern technique affect your way of producing and playing music? Is there a technical feature you wouldn't miss anymore?
Henry & Matthi: Modern technology is making many things easier, maybe too easy. There are so many people "producing" and "Djing", it's insane! They download the DAW, watch tutorial videos on youtube, even download templates and have a random EDM track together.

They also don't need much skills to be a "DJ", it's all synced. They play the top 20 from Beatport and that's it. The amount of so called "Djs" nowadays is ridiculous! Anyway, we wish that vinyl comes back to seperate them from real talented Djs…

One good thing is that computers get faster and faster. That makes working easier.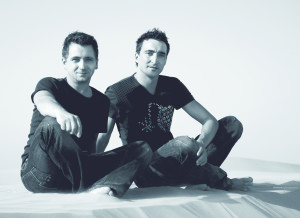 TranceAttack: With 10 years of experience as Stoneface & Terminal, do you have any advice to the young people thinking about becoming a professional DJ? Would you start such a career these days?
Henry & Matthi: First, make yourself clear what you want. Do you want girls, money and fame? Please do the electronic music a favour and do something else. This scene has an overflow!

If you want to produce music and play it because it's in you an needs to released, if you want to sit down night by night just to learn how to make music, then you will find your way to do it. Nowadays it's so easy to own skills via the internet. When we started, nobody told us how to make it, we had to learn it step by step. But we wanted it and we still do.

We think we would start something nowadays but maybe it would be really hard to make it professional as there are so many others…

TranceAttack: Henry, you became father last year. How was your first year as producer, deejay AND daddy?
Henry: It was really exciting and it still is! Sometimes it's a bit exhausting but it did not affect our music too much. My daughter is a really friendly and happy child. She did not cry too much, she is already moving to our music. 😉

TranceAttack: You released the first 10 Years – EP on July 13th with great reworks of "Venus" and "Another Day". Can you tell us which re-interpretations from your discography we can also expect?
Henry & Matthi: There will be reworks of "Super Nature", "Don't Give A Fuck", "Volcano", "Sidewinder" and more! It's really exciting as we did not want to press our tracks into the usual style that is trendy at the moment, that would be disrespectful torwards our work. We tried to produce it in our own style and we are happy with the results. EP1 is out, EP2, EP3 + a mix album will be also out on Euphonic in the next couple of months.

TranceAttack: Next to your 10 – Years – EPs you started with "Reflected Broadcast" a new monthly radio show and you reactivated your label "Electric Department Records". Can you tell us a little bit about your new projects?
Henry & Matthi: We started "Reflected Broadcast", as we wanted to re-create and refresh the concept of our radio show. We just felt, that after so many "Euphonic Sessions" it was time to do something new. Now we can combine all the styles we love from 125 to 140 BPM. There will be a "Electric Department Records" special in the second hour of every show, where we present different styles, acts and guest mixes. It's a very interesting and colorful broadcast!

We re-activated our "Electric Department Records" Label because we are really open minded when it comes to music. We love listening, producing and playing tracks from different styles and genres. Therefore we are still creating a platform to release this stuff. Maybe from our side projects like "Gundamea" or new talented artists. It's a lot of work but we love it!

TranceAttack: Let's come to your guest mix for our radio-show "Enter The Arena". Please tell us a little bit about your part of the mix. What can the listener expect?
Henry & Matthi: We will show the listener which tracks we like at the moment + something from 10 Years Stoneface & Terminal 😉

TranceAttack: Do you have a message for your fans?
Henry & Matthi: Thank you so much for your support over the last 10 Years! To the next 10!

TranceAttack: Thank you for the interview and all the best for the next 10 years!