We had the chance to talk with Jochen Miller about his first artist album "Fearless", his music and much more! Enjoy reading! 😉

TranceAttack: Hi Jochen, where do we find you today and what are you up to?
Jochen: Hello to you too! 😉 Today you can find me in my studio, making edits for my gigs in the US this weekend. Prepping myself and my tracks to take over Sacramento for the first time, so that's very exciting, and after that I will return to my friends at Rumor in Philadelphia, always love to play there!

TranceAttack: First of all, congrats for the release of your first artist album "Fearless". What can the listener expect?
Jochen: Thank you! The listener can expect a diverse album, with both vocal songs and pumping instrumentals. Working on this album I got to collaborate with the most inspiring lyric-writers and vocalists, that was an unforgettable experience for me, and I hope the listener can hear some of that magic too.

TranceAttack: Why took it so long till the release of your first album?
Jochen: Well, until this album I usually worked on one track, released it and then start the next. The timelapse between the releases could vary from 2 to 5 months, and I didn't even consider the possibility of releasing an album. But at a certain point inspiration came at a higher pace then usual. So when Armada and I were listening through my demo's to find the next release, we decided that these were not just single tracks, but there was a story to be told, an album…

TranceAttack: What's the idea behind the album title "Fearless"?
Jochen: This album is me, being fearless in putting my music out there for the world to have an opinion on. And to me it's a very inspiring track, as the chorus represents the way I look at life. I want to make the most of each day, living life to the fullest, without looking back in regret. There are choices to be made every single day, it's my way of saying, just go for what you want, be fearless!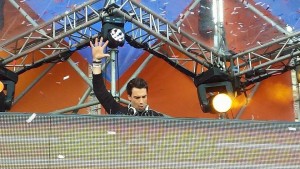 TranceAttack: I know that it is always difficult for a producer, but please tell us which one is your personal favorite from "Fearless" and why?
Jochen: It is difficult, but if I had to make a choice, it would be "Fearless", because it has fast become my life's anthem. As I said, I can totally relate to the chorus. Besides that, I had as much fun working on the other tracks, and the vocalists on the other tracks have all done an amazing job, in my opinion.

TranceAttack: Is there an artist you would love to work together in the studio?
Jochen: Yes, I've had Coldplay on my bucket list for years, I just love their music and Chris Martin's voice! Just doing a bootleg of their track "O" with my buddy First State was amazing, I would be beside myself if I ever got the chance to even meet them!

TranceAttack: Which sets do you prefer? The big festivals or the smaller clubs?
Jochen: Both! I'm just totally in my comfort zone on stage, it's the thing I love most. So I can really look forward to a performance in a club, where the atmosphere is more intimate, but I also crave the adrenaline-rush you get from playing at a big festival. It never ceases to amaze me.

TranceAttack: Is there one tune you play again and again in your sets – an all time favorite?
Jochen: I don't think I have an all time favourite as I like to keep my sets as fresh as possible, so I really like to play new music. But I know sometimes people that come to see me play, like me to play my own older tracks, like "Lost Connection" or "Brace Yourself", so these come by often.

TranceAttack: What was the first record you ever bought? And what was your last?
Jochen: Delirium – Silence, was the first, and the last one Magnificece & Elec Maire feat. Brooke Forman – Heartbeat (Nicky Romero Edit).

TranceAttack: What are your actual Top10?
Jochen:
01. Jochen Miller feat. Chris Hordijk – Fearless (Tom Fall Remix)
02. Magnificece & Elec Maire feat. Brooke Forman – Heartbeat (Nicky Romero Edit)
03. Jochen Miller feat. Hansen Tomas – A Million Pieces (Original Mix)
04. Armin van Buuren feat. Mr Probz – Another You (Mark Sixma Remix)
05. Dash Berlin – Waiting (Dash Berlin Miami Edit)
06. Jochen Miller – Turn It Up (Original Mix)
07. Luke Bond & Omnia – Reflex (Original Mix)
08. Manse feat. Alice Berg – Freeze Time
09. David Solano – Take Me Away (Original)
10. Jochen Miller feat. Simone Nijssen – Slow Down (Extended)

TranceAttack: What is your opinion on the future of the EDM?
Jochen: I think Dance Music in general will keep on evolving, and will constantly renew and refresh itself, so people will want to keep on listening and partying to it. I think we will hear more "music" and less "drops" in the near future, which I think is a great development, as I really like the music to be melodic and energetic. And I hope to make my contribution to the future of dance music by releasing more Jochen Miller tracks. 😉

TranceAttack: Thank you for the interview and all the best for the future!

Find all details for Jochen Miller's first artist album "Fearless" here: