We had the chance to talk with Paul Oakenfold about his music, the his new mix-compilation "We Are Planet Perfecto Vol. 4" and many more! Enjoy reading! 😉

TranceAttack: First of all, congrats for the release of the 4th edition of your your mix-compilation "We Are Planet Perfecto″. What can the listener expect?
Paul Oakenfold: A cross section of music that's melodic and showcases what I'm enjoying playing at the moment

TranceAttack: With "Trance Mission" you released a wonderful album with your interpretations of trance classics. Are there tracks left for a possible 2nd edition?
Paul Oakenfold: At the moment we aren't looking at doing a second. It felt right at the time to do, not sure if we'll do it again

TranceAttack: The results of this years DJmagTop100 have caused again intensive discussions a huge shitstorm about genres, deejays and manipulations. What is your opinion about the poll? Does it matters to you that you not even in the Top 100?
Paul Oakenfold: I think the chart is very EDM orientated. The majority of the votes come from America. I think it means a hell of a lot to the next generation of DJs which is understandable.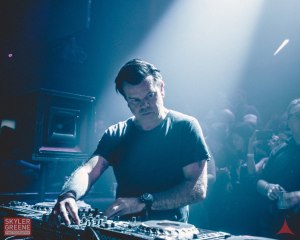 TranceAttack: In all these years you're worked together with nearly everyone of the "who is who" in the music scene and especially in the trance scene. Is there still a person left you would love to work with?
Paul Oakenfold: Yeah I've always wanted to collaborate with Eminem, I think it would be challenging but fruitful.

TranceAttack: Which side do you prefer? Behind the decks in the clubs or behind your equipment in the studio?
Paul Oakenfold: Difficult question to answer but there is nothing like DJing.

TranceAttack: You started to make music in a time where producing music happened in a studio mostly with hardware. How has the technical evolution changed your way to make music? What has changed in your daily routine as a producer because of the modern technique?
Paul Oakenfold: Technology has made it easier to do everything. Sometimes it takes away from the art though. Look at DJing now, you literally can push one button and everything is done for you.

TranceAttack: Also the technical evolution of deejay equipment is really impressive. What is your preferred equipment you spin with? Do you prefer CD's or USB Stick?
Paul Oakenfold: I prefer to use USB.

TranceAttack: What was the first record you ever bought? And what was your last?
Paul Oakenfold: The first record I ever bought was T Rex. Not sure if you even remember who that artist is. (Note from TranceAttack: T. Rex were a British rock band, active 1967–1977).

TranceAttack: 2014 is nearly over, so far. Can you tell us what, what was your special moment of 2014?
Paul Oakenfold: It was great to be on the road and revisiting a lot of clubs I haven't played at in a long time. I think the most memorable gig was playing at the Dead Sea to thousands of people at sunrise. Check it here:
I think it was so special because its not where you'd expect to have a party. Also, the Trance Mission album that was a lot of work from the perfecto team

TranceAttack: If you had to name 3 Tracks of 2014 as your top 3 tracks which ones would it be and why?
Paul Oakenfold: Any track from the Trance Mission album The amount of work that went in to it. Joyriders – Chillaxing in the club. A record that I've been playing for a while and works in both EDM and Trance world. And last, I'm a big fan of Hot Since 82, any track from him. Been playing them for a while.

TranceAttack: What can we expect in 2015?
Paul Oakenfold: More of the same really, enjoying Djing and making music right now.

TranceAttack: Thank you for the interview and all the best for the future!

Connect with Paul Oakenfold:
Facebook: https://www.facebook.com/Oakenfold
Twitter: http://www.twitter.com/pauloakenfold

Find all details for Paul Oakenfolds new mix-compilation "We Are Planet Perfecto Vol. 4" here: