We talked with Eco about his upcoming album "Wolves" and much more! Enjoy reading!

TranceAttack: Hi Marcello, Congrats for the release of your album "Wolves" which is not only a "collection several productions"… Can you tell us about the idea behind "Wolves"?
Eco: Thank you! Ever since I was 3 year old boy, my dad raised me to be a big Pink Floyd fan. So, from an early age, musically, I always had it in my mind that the Pink Floyd-style "concept album", with its continuous transitions, sound effects, spoken words, etc., was the standard. Years later, to me, as a musician, it was always second nature that my first album should always emulate that formula; and so when it was time to produce my debut album "M(you)sic", that's what I went for. Production and songwriting is always a growing process, so a few years after "M(you)sic", I'd matured some more and wanted to expand on the continuous experience that I tried to go for in that album. I wanted to tell a story: about a kid, and about a world not much different from the one we live in today, and about this kid running away from that world. That's the story I've attempted to tell over the course of 15 tracks with "Wolves".

TranceAttack: What can the listener expect?
Eco: ​They can expect a very melancholic, emotional, and visceral musical experience. Very quickly, you're able to place yourself in the runaway kid's mindset. On a less conceptual level, the listener can expect a certain balance of what I envisioned as an organic instrumental experience complemented with dance music in such a way that I think works well.

TranceAttack: Tell us something about the history of the album. When did you start working on it?
Eco: I started a little over 3 and a half years ago. I had no record label in mind, had pretty much closed the door on my young DJing career in pursuit of bigger things in the architecture field, and had zero expectations or plan on how this should all go. I work very long hours, so I was limited to working on bits and pieces here and there at crazy hours of the night; these are the things you do when you are passionate about something, and I think that passion oozes out of this record. A year in, I realized I wanted to incorporate more live instruments, specifically guitar. So I went ahead and bought one, along with amps, FX pedals, recording equipment. I slowly taught myself how to play, mostly by messing around, and eventually, my sounds on guitar provided a huge basis for almost all of the tracks.

TranceAttack: With your album "Wolves" you finish a release-free period. Thank goodness! Can you tell us something about your need to pause?
Eco: I realized years ago the DJ life was not for me. I do not want to tour the globe, fly 24 hours around the world to play CDs/USB for 45-90 minutes. It was not fulfilling. My work in the architecture field is fulfilling. Music production is fulfilling. Creating things, this is what I like to do. So, while it wasn't by design, I hit a bit of a lull, and while I messed around on producing new music in the background, months turned into years, and here we are. Only when I looked back, I realized how much time had passed without putting out more than 3-4 releases over those years. I don't have any regrets though; removing myself from the trance scene the way I did really had a hugely positive effect on my music, and the artist I want to be. If I kept up with the "rat race" of putting out singles every 2 months, this album may have never been made; and if it had, it may never have sounded the way it does. If I didn't make that choice, I'd possibly be making EDM or psytrance right now.

TranceAttack: What is your favorite style of playing music – live in front of a big crowd or producing an album with a story behind?
Eco: The production aspect of things is and always has been my favorite. I think I've fallen out of love with DJing, however, this jadedness is slowly giving birth to a new thing. My aim in the next year or two is to transition into "live performance"; I'm talking live instruments, band members, live vocals, etc., while trying as best to maintain the sound I have now. Things are generally extremely stale in the DJ scene, that I think that's where the scene will be headed soon anyway.

TranceAttack: When we had a look on your facebook, we recognized you often react on your fan`s comments and have a really deep interaction to them. Is it important to you to keep in touch with your followers?
Eco: Absolutely. I realized very early that is the type of artist I would be; essentially, that is the type of artist I love to follow as well, one that has a personal rapport with his fans (when they can, of course). Other artists, promoters, even record labels have actually noticed something about my fan base and commented on it: I may not have the largest fan base, but I've maintained a very cult-like following over the years, and nothing makes me prouder than that. So in terms of a few questions ago, where we discussed that a few years had gone by without many releases, I felt it was extremely important to still keep personal contact with them during that time: let them hear samples on my SoundCloud, keep them updated, give them my own feelings about where my work was at any given time. At the very least, they deserved that. And now, years later, so close to the new release, the level of diehard support and dedication for my music has come back and amazed me yet again.

TranceAttack: What do you think about the role of the social networks for producers – do they have influence of the way of producing music?
Eco: Yes – for good and for bad, I think. I think some of the factors behind the homogenization of the scene the last 7+ years were a result of misplaced importance on things like Facebook likes, DJ Mag votes, trending hashtags. Promoters would book a DJ because he had 200,000 likes on Facebook, but like 199,500 of them were fake likes. You could start to see a correlation between perception of social media/viral success and the change it'd make on some artists' sound or DJ sets.

TranceAttack: You're in the business for about a decade. How did you came in touch with the scene? What has changed since you started?
Eco: Thanks for making me feel old! haha.. Before you (or Martin Roth) ever heard of me, I started taking DJ gigs for teen parties in New York at around age 15; I started out just as vinyl records were dying, and very quickly, by age 16, had to "re-learn" DJing on CDJs haha… I would play a lot of hard style, vocal trance, some house, etc., at these parties, and cultivated a nice little following, that was growing very quickly. Looking back, the crowd I was attracting was very open-minded for being so young (14-17 years old). Now, teen parties feature mostly hip hop, R&B, top 40. But then, my sets began to angle more and more toward trance, the harder styles of trance at first (Alphazone, Cosmic Gate, DuMonde, etc.), but as I got older, I jumped into some of the more subtle progressive sounds as well.

All throughout this time, I was messing around and producing my own stuff (which was really really bad for 3-4 years), and finally, at age 17, I came up with something I felt confident was quite good. By this stage, I'd seen Paul van Dyk live for the first time, and he exposed me to a tune by Y.O.M.C. that I fell in love with. I'd later learn that it was an alias for Martin Roth, and that he was just starting a label; so I went out on a limb and decided to send him a few songs. He loved them, and had pages (yes, actual pages) and pages of incredibly constructive criticism and feedback that helped me become a much better producer. First, "Paradise Now" came out, then "Light At The End", and the rest is history. Next thing I knew, I was playing 5, 6, 7-hour extended sets at sold out shows in my hometown-area New York, and before I could blink, I was at A State of Trance; then promoters from Toronto, D.C., Los Angeles, and Montreal started calling, and next thing I knew, I was worldwide. It's a weird life, man.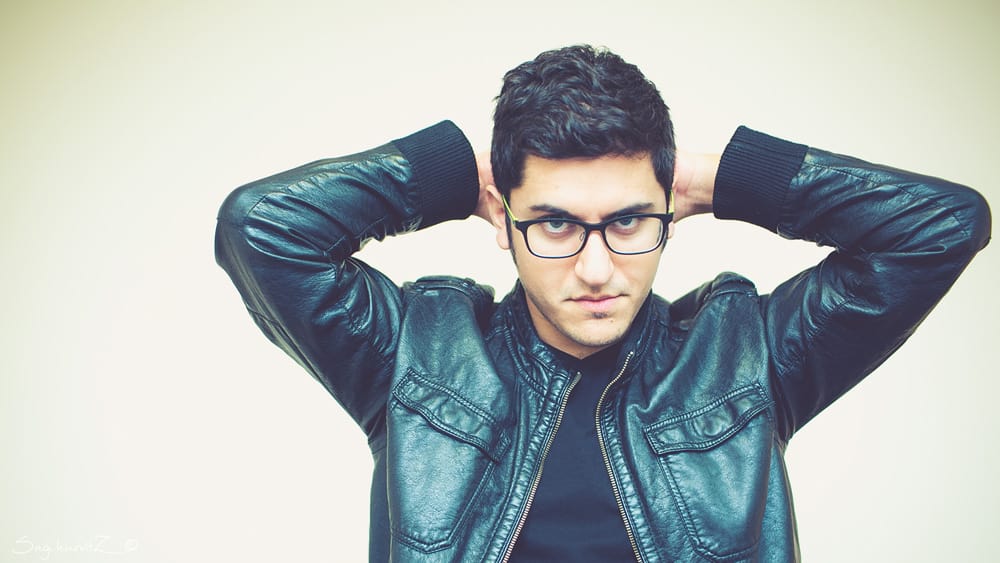 TranceAttack: How did your work in the studio and behind the decks change over the years?
Eco: In the studio, I feel like I produce music very much the same way as I did when I first started. I start with a basic melody as the basis for the track; that melody usually ends up turning into the breakdown. I then construct around it. The percussions and beginning portions of my songs are the last thing I think about, and my least favorite haha… That's how it was when I started at age 13-14, and that's how it is now!

As for behind the decks, I've learned to balance having a bit more "stage presence" into my performances. For YEARS, well into my early and mid-20s, I had such stage fright and nerves that I would place all of my concentration into the mixing. I'd play a few hours and barely look at the crowd. Ironically enough, I realized I needed to change that after I started getting booked for bigger and bigger shows; I realized that you need acknowledge and communicate with the crowd, not only with your music, but with your actions and outward energy. I'd say that's my biggest change. Musically, I still play the same way!

TranceAttack: How did the modern technique affect your way of producing and playing music? Is there a technical feature you wouldn't miss anymore?
Eco: I can't say I'm up to date with any modern technique of anything honestly. I still don't play on laptops, and I only switched to USBs from CDs late last year haha… I guess I'm a traditionalist? I don't really make use of 90% of the features Pioneer loads into the CDJs every year, I just focus on what music am I going to play, and how it will affect the crowd. Track selection and flow is PARAMOUNT; both when I was 15 at teen nights, and now at festivals in front of 15,000 people.

TranceAttack: If you were told to have stop making music for one week – what would you do instead of?
Eco: I'm always keeping busy; I'd probably be creative in some other form: graphic design, art, architecture. I always need an outlet for my creativity, it's always churning!

TranceAttack: If someone would like to start in the music business today, what advice do you have for him?
Eco: Truthfully, I have no idea haha… Everything has changed. When I started out, a young artist *could* blow up based on production quality of his or her music alone. A young DJ *could* get bookings because they played great sets and had a great track ear for track selection. Now, so many of those fundamentals have gone away. Do you have a good marketing plan? Do you have a gimmick? Because if you say yes to both of those questions, you may be able to blow up.

But if I'm not being so jaded and outdated, I do have some meaningful advice: HAVE FUN. Trust me, you do not want to be a professional DJ, it is not what you think. HAVE FUN making music you love, and if you're lucky, things will work out, and you may gain fame and recognition from your talent being recognized. Worst case scenario, you age into your 30s, and never played outside of your bedroom, but you can live the rest of your life with a collection of music you made when you were younger, that you really really really fucking feel proud of and remember fondly. Cheating, pandering, and cutting corners so you can have a year or two of touring some clubs here and there playing bullshit music you don't really like to drunk people who don't really care, that is not meaningful success and it's not something you'll remember fondly when you grow up.

TranceAttack: Time is running… 2016 comes to an end. Are there any highlights left until the end of the year?
Eco: Yep! A week after the album releases, the first single releases (extended mix of the opening track, with a remix too). And then my collaboration with Driftmoon drops in November. There will be two really awesome music videos accompanying these releases too, and I cannot wait to see how they're received.

TranceAttack: What was your personal goal for 2016?
Eco: I've already achieved it. I have a tendency to aim high on things I want to achieve, and the realities of life come crashing down and make me settle on achieving less than that; a lot of unfulfilled promises, sometimes to my fans, sometimes just to myself. I had a huge vision for how I wanted "Wolves" to be; the short story behind it, the sound effects, the artwork, the videos, all the way down to the clothing line, and marketing style. I had it all outlined in my head as early as a year and a half ago. Over the course of this year, I hit some moments where I was unsure if I could pull it off, but I had a very productive end of Summer, and it all came together. "Wolves" is dropping soon and everything I envisioned has come to fruition.

TranceAttack: Do you have a favorite track of 2016? Which one and why?
Eco: Yes, a close battle between "Trust In The Wind" and "The Lonely Soldier", both on "Wolves"! Admittedly, I haven't listened to much other trance this year haha…

TranceAttack: What can we expect from you in 2017?
Eco: Another album. Or at least that's the aim, for late 2017.

On the performance side of things, I want to use 2017 to transition into more of a live performance, and phase out the DJing. I don't find it as fun anymore, I want to play my songs LIVE!

TranceAttack: Thank you for the interview and all the best for the future!

Find all details for Eco – Wolves here: